Like a Dragon Gaiden: The Man Who Erased His Name, the latest release from SEGA and Ryu Ga Gotoku Studio, is ready for you on PlayStation. Come check it out!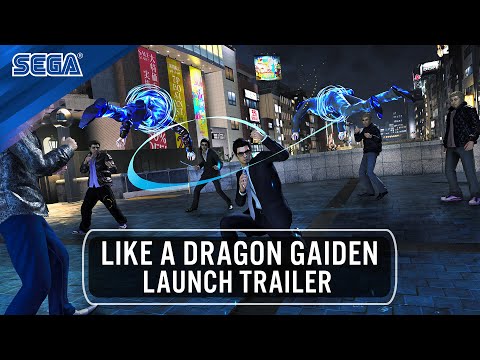 Please enter your date of birth to access this video.
Once a legendary yakuza, Kazuma Kiryu faked his own death and abandoned his name for the sake of protecting his family. Now, he is thrust into conflict by a mysterious figure attempting to drive him out of hiding.

Under the codename "Joryu," Kiryu embarks on a gripping action narrative with bone-shattering combat in vibrant locations filled with exciting characters and activities.
Like a Dragon Gaiden: The Man Who Erased His Name Features:
Dynamically switch between the Yakuza and Agent fighting styles in visceral melee combat.
With the Yakuza style, strike fear into enemies by unleashing wildly aggressive moves powered by Kiryu's unparalleled strength and flair.
Or up the ante with the Agent style by delivering blows with absolute speed and precision, while using an array of high-tech gadgets like electrified bind wires to stun enemies then send them flying.
Strategically adapt to the situation and leverage both styles to dominate and destroy hordes of enemies.
Whether you're brawling in the secret Battle arena, singing a new karaoke song, enjoying a drink at the live-action cabaret club, or racing in the pocket circuit, the world offers a variety of immersive experiences.
An intriguing informant named Akame also provides thrilling sub-missions, drawing you into an epic showdown that unfolds the more you explore and enjoy Sotenbori and Yokohama.
This game may be updated over time and have paid for and free additional content released for it. Please be aware that this may increase the minimum requirements for running the game above the specification stated here
We'll be working on a review for Like a Dragon Gaiden: The Man Who Erased His Name from SEGA and Ryu Ga Gotoku Studio, so be sure to stick around at PS4Blog.net!