Souslike Lies of P from NEOWIZ and Round8 Studio, a tale inspired by the story of Pinocchio, will land next week on September 19 on PlayStation. Come check it out!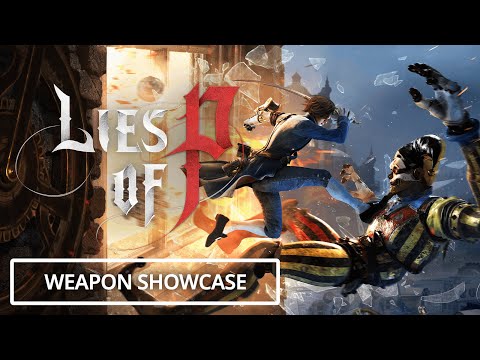 Please enter your date of birth to access this video.
Lies of P is a thrilling soulslike that takes the story of Pinocchio, turns it on its head, and sets it against the darkly
elegant backdrop of the Belle Epoque.

You are a puppet created by Geppetto who's caught in a web of lies with unimaginable monsters and untrustworthy figures
standing between you and the events that have befallen the world of Lies of P.

You are awakened by a mysterious voice that guides you through the plagued city of Krat – a once lively place that has been
poisoned by madness and bloodlust. In our soulslike, you must adapt yourself and your weapons to face untold horrors,
untangle the unfathomable secrets of the city's elites and choose whether to confront predicaments with the truth or weave
lies to overcome them on the journey to find yourself.

Confront the people who manipulate the strings of treachery that doomed Krat.
Lies of P Features:
A DARKLY ELEGANT AND CRUEL WORLD
Unearth the secrets of the city of Krat and the surprises it holds. Once a place soaked in the style of the Belle Epoque era, which thrived due to its puppet industry, Krat now sees its streets covered in blood. Face fearsome puppets and tormented souls as you carve a path through the collapsed city on your quest to become human.
BATTLE WITH TWISTED INSTRUMENTS
A unique combat system combined with split-second decision making means no battle will be the same. Wield and master various weapons with different Fable arts to find out what your style is. Engage with a versatile weapon-making system that lets you mix and match blades and handles. Switch between Legion Arms that offer abilities to suit every playstyle….Just never let your guard down.
WHAT'S IN A LIE?
While exploring the city of Krat, there will be times when you will be confronted with choices where you can give comfort to others in sorrow or despair by lying…or you can choose to tell the truth. Your decisions are worth deliberating over, as they will determine how your story ends. It's time to carve your own path.
A CLASSIC REIMAGINED
Experience the beloved fairy tale of Pinocchio reinterpreted as a dark, grim narrative that allows players to discover the secrets and symbols hidden within the world of Lies of P.