We'll be working on a review for Last Days of Lazarus, so I got in touch with GrimTalin to talk a bit about the game and its development. Come check it out!
PS4Blog: Good morning! Good to have you back with us. How are you doing?
Hi, it's great to be back! As the new year starts, I'm all about planning what's next for me. Exploring ideas for a new game, researching some cool new tech, evaluating my career to see what's the next step I should take, and so on.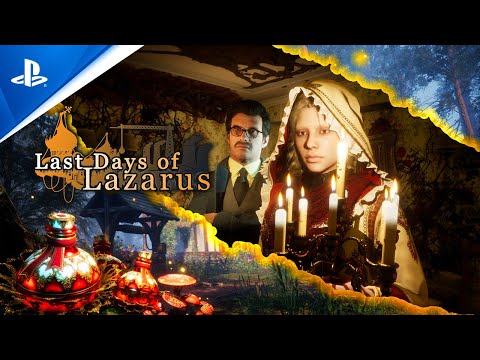 Please enter your date of birth to access this video.
PS4B: Last Days of Lazarus is out now on PlayStation 5. What can you tell us about this project?
Last Days of Lazarus is a narrative-driven adventure game that tells a crazy story about an estranged man coming back to his childhood home after his mother's suicide. He wants to lay low during the holidays and spend some time with his younger sister, but there is no rest for this troubled soul, as he will be subjected to all sorts of tribulations, such as supernatural encounters, getting mixed in a sort of military revolution, discovering dark secrets about his family and much more. It's a wild ride, and I had a lot of fun helping Darkania Works give it its final form and bring it into the hands of players. The game is available on PS5, Xbox Series X|S, and Steam.
PS4B: It's certainly very different from The Adventures of Elena Temple: Definitive Edition and Long Ago: A Puzzle Tale. What drew you to work on this particular project?
It's definitely different from my previous work, but I've never had the intention of settling on a certain genre or style. I'm aware that I might not have the chance to make indie games for too long, so I intend to try various things and work on any game that appeals to me. I love playing narrative-driven games, and when I was given a chance to work with Darkania Works on theirs, I was more than happy to do so. It's been great going over the story, editing scenes, rewriting stuff together, designing puzzles, polishing cinematics, and having the chance to bring my 10% to push the game a bit further. I definitely wanted to make such a game before on my own, but it's quite a complex and costly undertaking, so teaming up for Last Days of Lazarus made a lot of sense to me.
PS4B: Any chance we can also get to see Last Days of Lazarus on Nintendo Switch?
A few years ago, when I first started talking about the game with George, the game director, our plan was to bring the game to Nintendo Switch, Xbox One, and maybe PS4. But as time passed and we evaluated the work it would take to optimize the game for these platforms, it became clear to us that our best chance was to target just PC and current-gen consoles, PS5 and XSX. This allowed us to push the visuals as much as we needed without restraining ourselves too much due to technical limitations. George's dream was to be free to create the beautiful worlds you see in the game, and I helped him bring them to the platforms that could handle all the details. The amount of work it would take us to reduce the visual fidelity of the game for last-gen consoles would be too much for our small team. I do admit, though, that the game would be a blast on Nintendo Switch, especially since we managed to optimize it for Steam Deck, and playing it on a handheld is quite a treat.
PS4B: And that's all the time we have for today. Is there something else you'd like to add?
First of all, thank you for having me in an interview again! To adventure games lovers out there, please check out Last Days of Lazarus, it's made with a lot of love by a core team of two people, and it tells a kind of story not often found in games, with a lot of inspiration from our country, Romania, our religion, traditions, and superstitions. I hope you have an awesome year!