Low-poly horror game Chasing Static from Ratalaika Games and Headware Games is launching on PS and Nintendo Switch on January 12, 2023. Come check it out!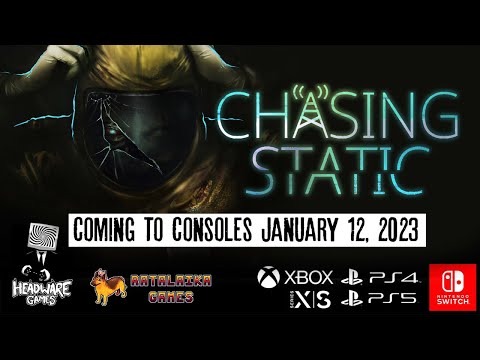 Please enter your date of birth to access this video.
In the dead of night a fierce storm rages across North Wales. Miles from any town, Chris Selwood seeks refuge in a remote roadside cafe. After a brief moment of respite, Chris finds himself venturing into the woods blindly following the distressed screams of the cafe waitress.

Explore the untouched wilderness of rural Wales as you uncover the forgotten remains of a government cover-up where a mysterious phenomenon caused time to stand still.

Inspired by 80s Sci-Fi horror and contemporary surrealist cinema, Chasing Static delivers a unique take on the narrative adventure genre through new audio driven gameplay mechanics and non-linear exploration.
Chasing Static Features:
Sonic Exploration – Audio driven gameplay mechanics have you hunting anomalies with an experimental Frequency Displacement Monitoring Device.
Lo-Fi, Hi-Fi – Crunchy low poly visuals reminiscent of PS1 classics with AAA sound design and a modern approach to gameplay.
Non-Linear Gameplay – Explore the world of Chasing Static at your own pace, uncovering it's secrets in any order you please.
Bite-sized Terror – A self-contained story with an average playtime of 2 hours.