Brewmaster: Beer Brewing Simulator from Fireshine Games and Auroch Digital is a game in which you'll discover and master the art of homebrewing. Read more in our Brewmaster: Beer Brewing Simulator review!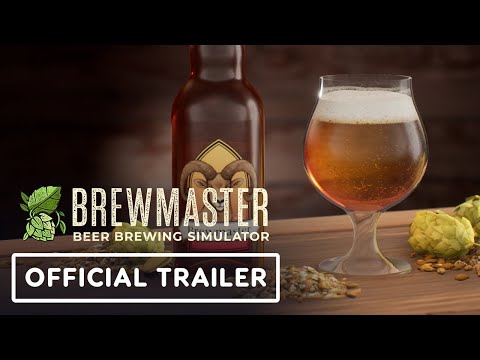 Please enter your date of birth to access this video.
Discover, learn, and master the art of homebrewing in the ultimate celebration of craft beer. From perfecting authentic, chemistry-driven brewing techniques to bottling and labelling, and entering competitions, become an ultimate brewmaster in the first ever realistic beer brewing game.
https://www.ps4blog.net/tag/auroch-digital/
As a beer and wine homebrewer myself, I was quite excited to try out Brewmaster: Beer Brewing Simulator from Fireshine Games and Auroch Digital and see how far the brewing simulator would take the experience. Luckily, this game is as technical and precise as I hoped it to be! The game states this as you start to play, and as a fellow homebrewer myself, I would like to state that you should be careful if you're interested in starting homebrewing after having played because there are other sanitization steps that aren't shown in the game but are mandatory to prevent brewing poisoning!
You can select between two modes: Brewmaster Mode, which is recommended for first-time players. In this one, you'll learn how to brew beer and get to take on the different gameplay mechanics. The second one is a Sandbox Mode, in which you're free to do as you please, but even if you're a homebrewer, you'll likely need a tutorial to understand how the game works.
In the Brewmaster Mode, brewing your first beer also serves as the game's tutorial. You'll begin with water, then add in malt extract – which is the real starting point of a home brewery if you're not using grains. Once the water boils, add hops to the mixture to add some flavor and personality to your beer. Once the wort has cooled, you'll transfer it into the fermentation container, add yeast and then wait for a few days until this step is completed. Then you can taste your beer or submit it to the in-game story-related competitions. Once the tutorial has been completed (which should take you between one to two hours), the gameplay becomes a slightly driven sandbox in which you're free to experiment as you wish using the in-game recipes.
If you're a beer enthusiast, Brewmaster goes into very technical home brewery territory and will give you each beer's IBU, clarity, and about ten other specs for each of the beers completed. Each hops type will add its own bitterness (AAC) and other specifications. After each beer has been crafted, you'll be able to virtually taste and see the result in a glass, along with a very detailed report of the beer profile, which was definitely great after spending about half an hour of gameplay time on a beer batch. On this level, I was impressed by how realistic the game is.
You might already feel overwhelmed by the amount of information I've detailed about this game, but one thing I noticed is how powerful yet casual and mostly accessible this game is. You do not need to know beer to play this game since you'll be told everything you have to know. It is quite technical, and I liked how the recipes can be pinned on the screen and all the steps in front of you. You can even check out the items with the press of a button. The game won't tell you when a step is done. It is your job to be attentive to what you are doing.
On the gameplay territory, it is apparent that this game was designed first for the PC environment, as you'll have to move a cursor to perform most actions. Your point of view is from a first-person perspective, and you'll move with the twin analog sticks, with the left one for strafing and the right one to direct the camera. It works pretty well, although I had a recurring annoyance with the action button being the Square button instead of the X button, which is the standard action button in the PlayStation environment.
As for the presentation, this game is built on the Unreal Engine, and it looks great. The kitchens you'll visit are detailed, and, as I already mentioned, I had a soft spot for how detailed the resulting beer was presented. The relaxing soundtrack feels like it was homemade, with acoustic guitar and piano that is a great option for the many hours you'll spend enjoying this brewing experience.
This game features 53 trophies separated into 44 Bronze trophies, 7 Silver trophies, and 2 Gold trophies. The trophies are awarded for taking in-game jobs and crafting beers that match the job requirement, completing the five different storylines, and getting more reputation as a homebrewer. One thing worth mentioning is that the trophies will pop AFTER a beer is created and tasted, which I think was a nice touch. The game is Cross-Buy between the PlayStation 4 and PlayStation 5 versions, and since each one has its own trophy list, if you have a PlayStation 5 console, you can work on adding two Platinum trophies to your collection.
Brewmaster: Beer Brewing Simulator is as technical as I had hoped it would be. I liked the game's presentation and how realistic the homebrewing is. Crafting your beer is a casual experience that was fun. I could see beer enthusiasts having fun and experimenting with the sandbox mode. Casual players on the other end might think that this game is too technical or would get redundant after having brewed a few different beers. Brewmaster is available with a $17.99 asking price, and since it's a Cross-Buy release, your purchase will give you access to both the PlayStation 4 and the PlayStation 5 versions of the game at no extra cost.
Disclaimer
This Brewmaster: Beer Brewing Simulator review is based on a PlayStation copy provided by Auroch Digital.