Gorgeous 2D RPG beat 'em up Young Souls from The Arcade Crew and 1P2P Studio is launching today on PS4 and Nintendo Switch. Come check it out!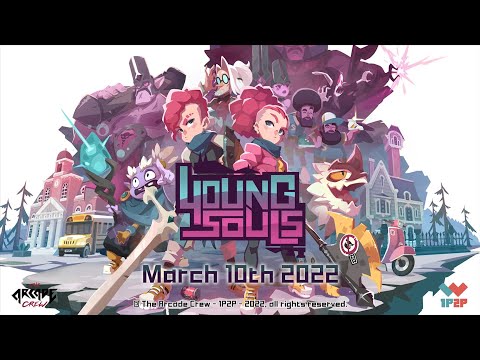 Please enter your date of birth to access this video.
As orphans, Jenn and Tristan's life path brought them to a mysterious scientist, who took them in and cared for them as his own children. But one day, he disappeared under very odd circumstances.

While searching desperately for him, the duo found a hidden cellar and the Moon Gate portal, transporting them to a dangerous parallel world where goblins thrive.

Your adventure begins as you fight to bridge these two very different worlds.
Young Souls Features:
Fight with Jenn and Tristan, solo or in co-op, and experience the adventures of the twins and the two worlds through a beautifully crafted story and polished dialogue.
Customize your gear by unlocking hundreds of weapons, armor sets and accessories, and then prepare to fight hordes of enemies and over 20 fearsome bosses.
Explore the four unique biomes of the goblin world and complete dozens of dungeons in your quest to save the world, your reputation and the professor.
Pass from one world to the other through day and night and make the most of each environment. Enjoy stunning scenery and a unique atmosphere as you wander the streets of Portsbourgh.