Obscure Tales and Neon Doctrine will be releasing survival horror game Lamentum on Nintendo Switch and PlayStation 4 on August 31. Come check it out!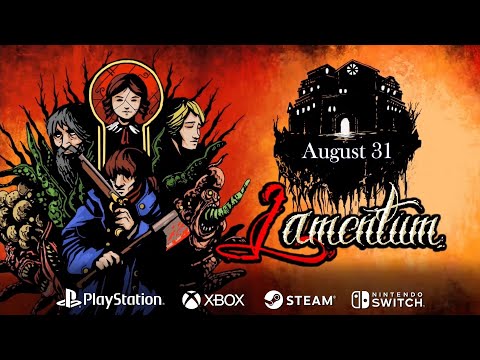 Please enter your date of birth to access this video.
Guide Victor Hartwell, a young aristocrat on a desperate journey to cure the deadly disease that afflicts his beloved wife, Alissa. Their last hope resides in the darkened halls of Grau Hill Mansion whose Earl has uncovered ancient secrets and forgotten sciences. He claims he can heal Alissa, but… at what price? Grau Hill mansion will open its doors and immerse you in a world of nightmares where you may be trapped forever.

Lamentum is a pixel art survival-horror game set in New England in the mid-nineteenth century. To solve the dark secret at the heart of Grau Hill Mansion, you will have to immerse yourself in a nightmare world full of terrible creatures.

Choose well in whom to trust, every decision you make may alter the course of the story.

Will you survive?

Lamentum is inspired by classic survival horror games like Resident Evil and Silent Hill along with cosmic horror masterpieces, especially the Cthulhu mythos.

Lamentum is a dark and adult-themed game, in which the player can enjoy classic survival-horror gameplay.
Lamentum Features:
An array of 19th Century Melee and Ranged weapons.
Horrifying enemies with unique behaviors, including a boss in every zone.
Make use of disturbing artifacts such as the Child's Tooth Box.
A terrifying plot with branching paths and multiple endings.
Resources are scarce, and not every enemy must be killed to progress.
A tight inventory system that will have you agonizing over what you will need and what you'll have to leave behind in storage for later.
An enormous mansion to explore, filled with deadly traps, numerous obstacles, and of course, puzzles.
We'll be working on a review for Lamentum from Obscure Tales and Neon Doctrine, so be sure to stick around at PS4Blog.net!