The Battle of Steeltown is the first DLC of Wasteland 3, a game I really appreciated when I played it in fall last year. Come find out if this expansion is worth going back to Colorado in our Wasteland 3: The Battle of Steeltown review!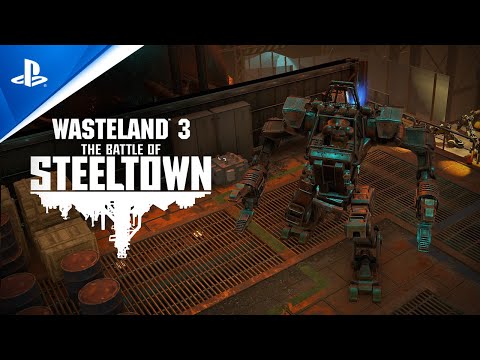 Please enter your date of birth to access this video.
The new DLC for Wasteland 3 from Deep Silver and inXile Entertainment, The Battle of Steeltown, is finally here! The first thing to know is that depending on your current progress with Wasteland 3, the DLC might not be available for you to experience just yet. In order for it to be unlocked, you'll need to have a character of at least level 9 in your party, and even so, the game recommends being at least level 11 if you don't want it to be too challenging. With that being said, once you've met the requirements and head outside on the world map, you'll get a call from the Patriarch asking you to investigate what is going on with Steeltown, the main supplier of guns, armors, and vehicles for the ongoing war.
When you get there, you get to learn that a faulty computer program that's responsible for determining what people's job will be in the factory has assigned the wrong person to the role of a security officer. On top of that, one of the workers has lead people to go on strike due to their working conditions. From there, your job will be simple: solve this problem and bring the factory back to being up and running as fast as possible.
I won't go over everything in terms of gameplay – but I would suggest checking out my Wasteland 3 review for everything that's part of the game – so I'll only cover what comes with this expansion. One of the first things you'll learn when you get into a fight early on is that there are now weapons that can stack effects on characters. This means that it will apply a certain status, like limiting your movement, and the more stacks a character gets, the longer the effect will last. Since you are trying to get a factory back to a working state, the game introduces non-lethal weapons so that you don't end up killing everyone – if that's your choice, of course. There are also new weapons and enemies that add a bit of diversity to the already excellent lineup the game has.
Wasteland 3 was already an excellent game, so more content for it is great news. It doesn't take long before you are introduced to the new game mechanics, so the DLC feels like new stuff, although the same great formula is still there. Depending on how far along you are in the campaign, you'll be able to use those in other areas as you go back to exploring Colorado, which adds a new way of doing things if you were not done with the game yet. I also really enjoyed how they weaved the story for the DLC expansion right into the main game's storyline – it felt like it had been there from the beginning, with potentially returning characters depending on your progress and choices.
In terms of trophies, the DLC for The Battle of Steeltown adds 11 Bronze trophies and a single Silver trophy for you to work towards unlocking. There are a lot of opposite choices for you to consider for the trophies, so you'll likely have to do some heavy save management if you want to get everything out of the way without having to start a new game.
The Battle of Steeltown is more content for an already great game, which is definitely a good thing. The DLC price might be a bit steep considering how many hours of content you're getting, so you should definitely consider getting the expansion pass since it offers better overall value.
Disclaimer
This Wasteland 3: The Battle of Steeltown review is based on a PlayStation 4 copy provided by Deep Silver.