Ever since its launch back in 2013, GTA 5 has been an astonishing success. You only have to look at the figures to see that the estimated $265 million that Rockstar Games spent developing and marketing the game has paid off royally. With over 115 million games sold worldwide, conservative estimates suggest that it's earned in excess of $6 billion for its makers – Not a bad result by anyone's reckoning.
The real genius of Rockstar, however, has been to sustain interest in the game for so long. Sure, the interweaving stories of Michael Townley, Trevor Philips, and Brad Snider are engaging enough, and so's the chance to cruise around Los Santos, causing mayhem along the way. Even so, to still be selling the game and building on the body of devoted fans some six years after launch is an achievement well worth applauding.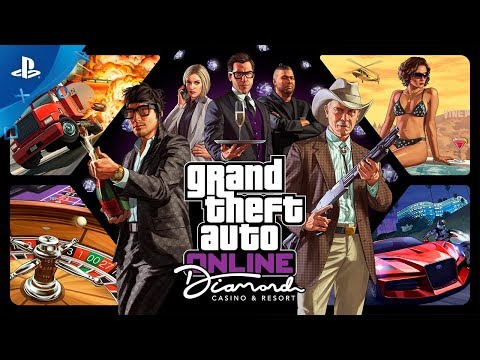 Please enter your date of birth to access this video.
Welcome to the casino
It was last year that they made one of their most significant moves when, out of nowhere, Rockstar announced that the game's Diamond Resort and Casino would be opening its doors for the first time in July. The casino had been there ever since the game launched, but players had become used to seeing the "Opening Soon" sign whenever they burned past its doors just next to the Vinewood Racetrack. Although Rockstar hasn't released any official figures reports, suggest that it led to the game's busiest day since launch.
Best of all, everyone who seized the opportunity to head for the casino found all that they were hoping for, and even more, to add a whole new dimension to the game. The only question was: why did everyone have to wait for the grand opening for so long? There was speculation that Rockstar had been waiting for feedback on how well the poker in Red Dead Redemption 2 had gone down before committing to the full-on gambling feature in GTA5.
Anyone lucky enough to visit the casino will agree that it has added a whole new dimension to the game, not to mention many new ways to both earn extra money and to go through it like water.
As soon as you enter the Diamond Casino, it's easy to see that you're in a perfectly rendered world that's totally in keeping with the rest of GTA5. Glamorous fellow visitors mill around in the foyer, and there's a stunning supercar on display. This is also where you'll have the chance to have a free spin of the Wheel of Fortune, and if you're really lucky, you could be adding that car to your own personal collection – not a bad start at all to a night at the casino.
The games people play
Once you move into the gaming room area proper, you'll find a range of games that you can play with the chips that you can buy at a rate of one per GTA$. There's roulette, blackjack, three card poker, and a variety of slots that refer to other entertainment properties that you'll find in the rest of the game, including Twilight Knife and Impotent Rage. If you're a fan of horseracing, then you can also try your luck on Inside Track, where virtual races are played out for your pleasure.
Of the games, it's three-card poker that's proved to be a particular favorite with players, and there may be a number of reasons for this. For example, like blackjack, and unlike other poker variants like Texas Hold'em, in this game, it's you against the dealer. This makes it a much faster game to play as well as being one with much simpler rules. In it, it's merely a case of betting whether your hand is better than the dealer's and winning a different multiple of your bet depending on the strength of that hand. Because of the fewer number of cards that you play with compared with Texas Hold'em, it means you'll never get the excitement of a royal flush poker hand – but a straight flush will undoubtedly win some pretty big cash. While some reviewers of the game have wondered why there can't be Texas Hold'em to play as well, citing RDR2 as a game where it features, the general consensus is that this could be too long and laborious to play in the casino format.
Spending your winnings
As to what you can do with your winnings in the casino, this is where it starts to get really exciting. Remember that it's a casino and resort, and that means there are some superb penthouses as part of the complex that you can buy if you've a spare couple of million GTA$ in the bank. The more you have, the fancier the penthouse where you can throw amazing parties or just chill out in a games room filled with retro entertainment.
The absolute pinnace of these pads is the High Roller, yours for around GTA$ 6 million. Land one of these and you'll also have an office to run your "business affairs," a home cinema, access to your own helipad as well as a ten-car garage waiting for your supercar fleet.
So it would be fair to say that the latest addition to GTA 5 really does have it all and with the launch date of GTA6 far from being confirmed it's enough to keep players engaged till it arrives. It's also fair to assume that the next generation casino will be an even more impressive addition and all we can say is "bring it on!"