Strictly Limited Games got in touch to announce that pre-orders are now open for Door Kickers: Action Squad on PS4 and Nintendo Switch… collector's editions included!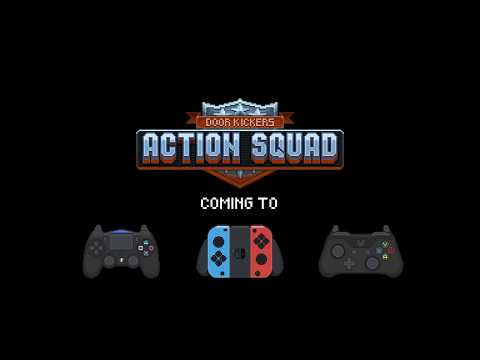 Please enter your date of birth to access this video.
Door Kickers: Action Squad is a crazy old school side-scroller action game that puts you in the role of a SWAT trooper and sends you to deal with the bad guys in Nowhere City USA.

Choose your gear, then kick the doors down and face the action. Adapt and react by the seat of your pants, and if needed – restart without a care and rethink. Master weapons recoil and time your reloads, use distance and cover to your advantage and use the in-game Strategic Abilities to decide for yourself when healthpacks or gear refills are needed, or if that team-mate of yours is worth saving. Or just save up the Points earned and unleash your Ultimate to waltz through that tricky final room.

And when it gets too hard, bring over a friend to help.
Door Kickers: Action Squad Features:
– High-resolution retro graphics
– 6 playable characters with different gameplay & level-up options
– Couch and Online Coop Multiplayer Mode
– 84 non-linear steps to kick doors
– Over 40 types of weapons and gear
– 20+ enemy types and 4 different mission objectives
– Unlock fantastic player and squad abilities
Door Kickers: Action Squad will be limited to only 1,500 copies (€24,99 – PlayStation®4) and 2,500 copies (€29,99 – Nintendo Switch) and exclusively available via the Strictly Limited Games webshop. The Collector's Editions are limited to only 700 copies (€44.99 – PlayStation 4) and 1,500 copies (€49.99 – Nintendo Switch) worldwide and also include a hardcover box with magnetic closure, a hardcover art book, the soundtrack on CD, Door Kickers sticker and an Action Squad poster.