Bethesda has shared a new trailer for Doom Eternal, and it's also decided to give us a solid release date for the highly anticipated game: November 22, 2019. Come check it out!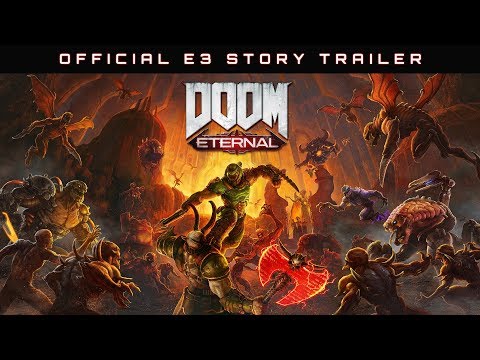 Please enter your date of birth to access this video.
DOOM Eternal puts you in control of the DOOM Slayer as you blow apart new and classic demons with powerful weapons in unbelievable and never-before-seen worlds. Experience the ultimate combination of speed and power as you rip and tear your way across dimensions with the next leap in push-forward, first-person combat.
Powered by idTech 7 and set to a grinding soundtrack, DOOM Eternal puts you once more into the boots of the unstoppable DOOM Slayer as you blow apart new and classic demons and traverse never-before-seen worlds.
DOOM Eternal Features:
A whole new arsenal
Raise hell with new and improved weapons, including a shoulder-mounted cannon, extendable wrist blade and a new dash ability.
Fresh hellspawn
Obliterate hordes of classic fan favourite enemies like the Pain Elemental and Archvile alongside totally new demons like the DOOM Hunter and corrupted Marauders.
Vivid new locations
Witness the tumbling skyscrapers of Hell on Earth, battle through a mammoth invasion on Phobos and discover ancient secrets of the DOOM universe.
Online invasions
Allow real players to become demons invade your game – or invade a friend or other player's game yourself – for a dramatic and unpredictable twist to the main campaign mode.