Are you ready to check out the third episode for Telltale's The Walking Dead: The Final Season? Then come check out Telltale's The Walking Dead: The Final Season – Broken Toys review!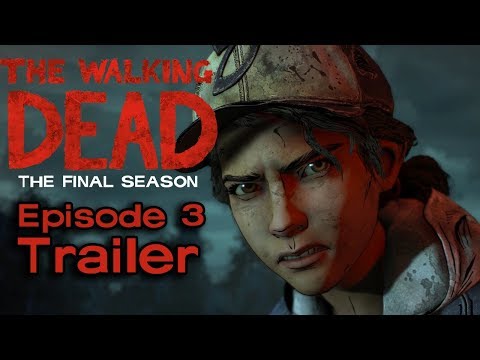 Please enter your date of birth to access this video.
If you haven't played one of Telltale Games release made in the new mold after The Walking Dead Season One, then you should know that get to you interact with other characters in conversations with multiple answers. You have a limited amount of time to select an answer, and you can also select to remain silent. The selection you make will affect your relationship with other characters, so you should keep this in mind as you decide on how to play things as you move the story along. There are also segments that resemble a proper point and click release, as you check thing and try to find items that can potentially help you carry on.
Having said that, and if you don't mind reading some spoilers about the events for this third episode in the final season of Telltale Games' take on The Walking Dead Universe, then scroll past the image below!
After the events of the previous episode in which Lily and her group end up attacking the kids at the school, they end up taking some of the kids back to their base, including whoever you didn't get closer to during the final non-action sequence in episode 2. This, of course, means that for episode 3 you have to find a way to get them back as you seek revenge for what they have done. But to do this, you'll need to first learn where they are holding your friends, and this is when Abel comes into play.
You see, you managed to capture Abel, who you run into earlier in the season when trying to do a run to gather some extra supplies for the kids at the school, and he's all tied up in the basement waiting for you to do your best (or worst). You'll need to interrogate Abel and play either good cop, bad cop or really bad cop as Clementine and AJ try to find the answers they need so that they can go and rescue their friends. And even then, once you know the location, you'll need to do some recon to find out the best possible strategy.
You'll find a familiar face once you're done with recon, someone who you've met before who is very skilled at making the undead go here, there and everywhere. Perhaps his powers can be used for "good" by unleashing a mob of very angry and deadly zombies at Lily and her gang so that you can create a distraction to be able to free your friends before they know what hit them?
The game keeps the same trophy distribution streak going for the third episode of this final season, with several trophies that unlock as you play the game and complete each of the story acts, as well as others that are missable and that are awarded for finding the hidden collectibles in the game, as well as for placing them back at Clementine's and AJ's room at the school to make the place not feel as dark and gloomy as it really is.
Telltale's The Walking Dead: The Final Season – Broken Toys does a good job at setting things up for the fourth and final episode of this final season. Some of the plot threads from the first two episodes start to come together in Broken Toys, hinting at where things are going to go for Clementine, AJ, and the rest of the kids. I can't wait to play the final episode this month!
Disclaimer
This Telltale's The Walking Dead: The Final Season – Done Running – review is based on a PlayStation 4 copy provided by Skybound Games.