We're working on our review for Epic Loon, so I got in touch with Ukuza to talk about the game's development and its Nintendo Switch release. Come check it out!
PS4Blog: Good morning. Thank you for joining us today. Can you please get us started by telling our readers a bit about yourself and your work?
We are Ukuza, an independent video game publishing company based out of New Jersey. Our mission is to bring unique, visually stunning games with deep stories and memorable characters to gamers all over the world. We just launched Epic Loon on Friday, July 13th, and our other game, Skelattack, is in development.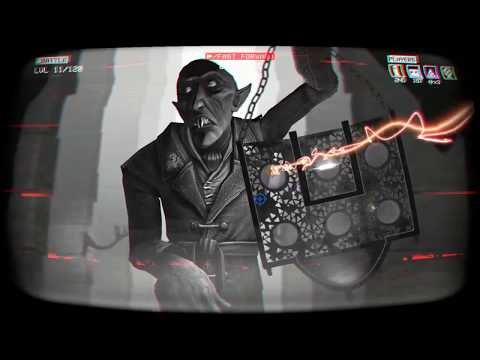 Please enter your date of birth to access this video.
PS4B: Epic Loon is now out on Nintendo Switch. How would you describe the game to someone who's never heard about it?
I think the game would be best described as a silly, addictive, occasionally obscene couch co-op platformer, built to entertain multiple people at the same time, in the same room, with the same love of classic movies and ridiculous humor. The story is about four aliens who have been recently awoken from their slumber inside a VHS cleaner tape by a geeky cinephile named Joe, who insists on only watching classic VHS films. As revenge for being roused from their eternal sleep, they inject themselves into all of his favorite movies, destroying the most memorable scenes and completely screwing up the plotlines and endings. You'll see loving references to movies like Jurassic Park, Alien, Nosferatu/Dracula, and Godzilla. All in all, it's wacky, hilarious and easy to enjoy. And gorgeous, to boot.
PS4B: How long did it take to develop the game? Where there any considerable changes between the initial concept and what we can now play on the Nintendo Switch?
The game has been in development for about three years, and oooooh yes, the game has been through a LOT of changes since its early inception. At first, Macrales Studio (the developer of Epic Loon) took early inspiration from the gameplay mechanics of Soccer Physics, a popular online game. They incorporated physics mechanics into placeholder assets and basically saw how they might work on a game with a much larger scale. Then, they toyed with the idea of cartoonish animating but didn't love the aesthetic. THEN, they tried giving the aliens a bunch of different powers, but the devs and their friends didn't like how overly busy it made the game. Finally, they settled on what you see today: an easy to understand but difficult to master platformer with dynamic levels and a spaceship full of nostalgia and dark humor.
PS4B: Now that the game has been completed, what are you currently working on? Are you looking at developing extra content for Epic Loon or will you take a break before diving into creating a new game?
Macrales Studio is already conceptualizing a NEW game that we can't give too many details on yet, but it involves heroes and villains from the comic book world getting sick of their jobs! If Epic Loon does well, we are absolutely looking at creating new VHS and more content down the line.
PS4B: And that's all the time we have for today. Is there something else you'd like to add before we go?
Epic Loon is out NOW, available on Steam, Xbox, and Nintendo Switch! Also, alienz r cuul.