SENRAN KAGURA spin-off SENRAN KAGURA: Peach Beach Splash is a fast-paced 5-on-5 arena fighter. Learn more in our SENRAN KAGURA: Peach Beach Splash review!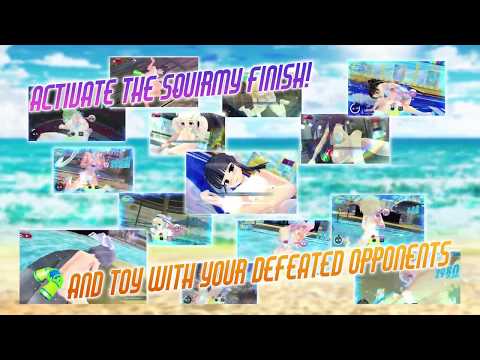 Please enter your date of birth to access this video.
In the latest release of the series, the story focuses on the Shinobi water gun tournament which is run and played by female shinobi ninjas in bikinis. The only rule in the tournament is that the girls are banned from using their ninja abilities to win matches, so the only weapon they can use is their water guns. The good news is that there is a solid variety of water guns, from pistols to rocket launchers and everything in-between. Each water weapon his its own advantages/disadvantages, so you'll need to test things out to see what works best for you.
Senran Kagura Peach Beach Splash is a highly sexualized 3rd person arena shooter and, as is to be expected of the series, the girls will be wearing skimpy bikinis with lots of cleavage and butt wiggling. As a woman, this definitely got on my nerves for a bit, but I can see why the game would appeal to the specific demographic it targets. Luckily the game is also fun! It offers multiplayer modes as well as a single player experience, all presented in a lighthearted and amusing package.
The game does offer several story modes, so if it's just the story you are interested in, then you're in for a treat as there are also some extra side stories to sink your teeth into. There is also the V Road challenges which are mini tournaments that you can play for prizes. There are some free and ranked matches that you can enjoy online as well, so there is plenty of content.
The combat is based on a card system, and you can collect more cards to expand your collection. Some cards contain special skills to use, and each girl can customize her card loadout – 13 cards with ten skills and three pets. You can expect cards with stat boosts for your team, and stat decreases for the opposing team, as well as special attacks that can have devastating effects on your opponents. There are cards that can heal you when you need it, and you also have the ability to heal your teammates with the Circle button – you'll be taught about this during the tutorial matches. Any card duplicates you earn are automatically turned into EXP which is nice as I hate wasting cards – some games force you to discard card duplicates. This is very useful since you need to use EXP to upgrade your characters, weapons, and cards.
You don't ever need to worry about running out of water ammo since you can simply press the Square button and the girls will bend down to refill their water guns. The girls have a pair of water jets around their waists, and you can use them to propel around by using your water ammo. Pretty neat right? You can dash around to surprise your enemy, or you can make the most of it to get you out of sticky situations. The air dash type depends on which water weapon you use. For example, the water rifle allows you to fly wherever you want, but the Sniper rifle lets you hover, so this forces you to think about the best loadout for each situation.
The graphics are very pretty, making great use of the 3D models with a colorful anime style. It reminded me for a bit of the look for Daganronpa Ultra Despair Girls, only brighter and with more bikinis and water. The outdoors environments are very detailed, but the indoor environments feel a little bit repetitive.
So if you can get past the practically naked girls, the story is very amusing and over the top. And if you're a fan of the franchise then you're definitely going to love what this one has to offer! The change of pace from the regular gameplay mechanics of the main SENRAN KAGURA is interesting, and the fast-paced arena arcade action will suck you in. Are you ready for a fight?
Disclaimer
This SENRAN KAGURA: Peach Beach Splash is based on a PS4 copy provided by XSEED Games.