It's been along wait, but Season 3 of Telltale Game's The Walking Dead is finally here! Season 2 ended way back in 2014, and if not for The Walking Dead: Michonne in 2016, we would have waited 3 years for our adventure game zombie fix. A lot has changed since it's also been several years since we last saw Clementine in the game. Are you ready to dive in? Then check out our Ties That Bind Review!
AS IS THE CASE FOR ALL RELEASES FROM TELLTALE GAMES, READING BELOW THIS LINE MEANS YOU ARE WELL AWARE YOU'RE ENTERING HEAVY SPOILER TERRITORY. YOU HAVE BEEN WARNED!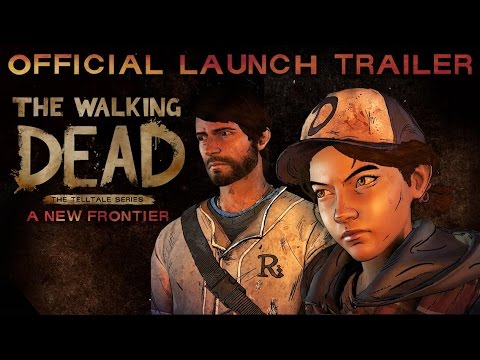 Please enter your date of birth to access this video.
Before we get into the review proper, I did want to mention something that is very important. If you've played Season 2 of The Walking Dead, then you can import your clear save data from that into Season 3 so that all of your choices are considered by this new entry. If you're moving from one console to another platform, you'll first need to update Season 2 and link your Telltale Games account (and create an account if you don't already have one). After this you upload your Season 3 clear save file to the Telltale Games account, go to the website, mark the save file for use on Season 3, and THEN download it into Season 3. It sounds more complicated than it really is – it took me 5 minutes to do all of this (plus another 10 minutes to update The Walking Dead Season 2 on my PS3).
Telltale Games is well aware that the wait between Season 2 and Season 3 has been considerable, so they decided to give us two episodes back-to-back on launch day. This makes sense since Season 3 is meant to be a proper continuation of the events from Season 1 and 2 while also introducing new players to this take on The Walking Universe. This means that there's plenty of exposition to take care of, hence why episodes 1 and 2 of this new season are aptly called Ties That Bind Part I and Ties That Bind Part II.
To ease in new players, we first get to play as new character Javier. This allows those new to the franchise to learn more about what is going on since the game does a good job of setting up what was going on before the undead started to walk through the world as well as shortly after. Ties That Bind Part I then takes us further into the "current time" of the series, where we are introduced to an older, wiser and more bitter Clementine. Clementine is on her own, and as we play we get to experience some flashback sequences that slowly showcase what happened to Clementine and AJ, the baby she rescues at the end of Season 2.
That's as fast as I'll go for the story of this pair of episodes that get Season 3 started in the right direction. Rest assured that Clementime has some great moments in this new season, and that the updated Telltale Games engine makes this the best looking The Walking Dead release from the beloved studio. If you've already completed the first two seasons in the game (and Michonne), then you've been anxiously waiting for this new release and are probably almost done with both episodes. But if you're new to the series, The Walking Dead: A New Frontier is still a good point from which to experience The Walking Dead universe. I highly recommend that you play this one on PS4 right away so that you're ready for the third episode which will be releasing soon.
Disclaimer
The Walking Dead: A New Frontier – This Ties That Bind Review is based on a PS4 copy provided by Telltale Games.