It is finally here! PLAY 2016 has now officially started, bringing the spotlight over four very interesting releases that are now available for you to pre-order to take advantage of a 20% discount if you're a PlayStation Plus member. Everyone will also gain access to a very nice 20% discount coupon for an entire cart purchase at the PSN if two or more games in the promotion are bought. Come check a trailer for this years PLAY games!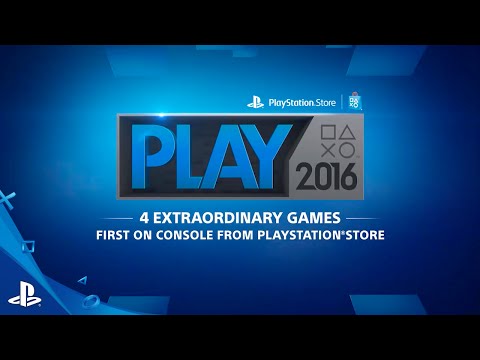 Please enter your date of birth to access this video.
As you can see, this year's games are Headlander, ABZÛ, Brut@l and Bound. I'm very interested in reviewing all four games, so here's hoping things work out for us to include them in our review schedule!
Headlander is a a retro-futuristic, side-scrolling, action-adventure game set in a world inspired by 70's science fiction. It is a world of automation, a utopia gone wrong in which all of humanity have transferred their minds into robotic imposter bodies and are ruled by a deranged computer.
ABZÛ is a beautiful, dreamy underwater adventure. Immerse yourself in a vibrant, hidden world that's bursting with life but beware as you swim deeper – dangers lurk in the mysterious depths.
Choose your hero – Ranger, Mage, Warrior, or Amazon – then descend into a dangerous world constructed entirely from ASCII characters. Weapon crafting, potion brewing, and local 2P multiplayer will help you survive the onslaught of enemies in these unique dungeons.
Developed exclusively for PlayStation 4 by Plastic, the team behind innovative titles like Linger In Shadows and Datura, Bound is a 3D platformer that combines a unique visual style with a powerful story and gameplay mechanics infused with modern dance.
Are you getting any of the games of PLAY 2016? Let us know in the comments below!