Double Eleven got in touch with us to mention that they're almost ready to release Prison Architect on PlayStation 4! It's been a long wait, but Prison Architect is finally seeing a release on Sony's home console on June 28! But wait, there's more! The game is seeing both a digital and a physical release, so you can take Introversion's clever game for a spin no matter how you play and collect games!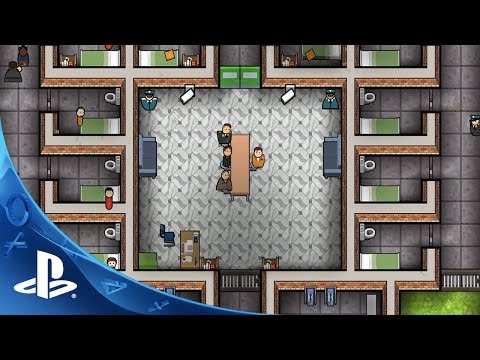 Please enter your date of birth to access this video.
Our readers in Europe won't have to wait long for the game, because it will be out on July 1st! Double Eleven had this to say about the game:
Prison Architect is the world's biggest lock­em­up, as we call it, where you control and manage the fate of your inmates. How you go about doing that, and the prison you build is entirely down to you. You can design a prison which promotes social order and a peaceful coexistence amongst inmates, offering rehabilitation and plenty of free time or create a brutal supermax that disregards human rights and imposes strict punishment, as armed guards
patrolling every corridor. You'll see the impact of your grand design on the lives of your inmates, but of course even when all of your prisoner's needs are met, unlike other games ultimately it's still a prison and no one really wants to be there.

The game also features Prison Stories​(our campaign mode), World of Wardens,​where players can share their
creations online, and Warden ​mode, allowing players to take immediate control of a pre­built prison, made by our
designers and the very best of fan creations.
Prison Architect will be available for $29.99 / £19.99, and if you pre-order at select retailers you can get the All Day and a Night DLC for free! This will save you ​$9.99 / £6.99, which is the price of the DLC if you don't pre-order.
All Day and a Night DLC
● All Day and a Night introduces 8 new wardens, 8 new prison maps and 8 new plots to expand your prison experience and bend the rules.

● Expose your prison to a whole host of new characters who can impact your prison in different ways. Run experiments on the inmates, expose them to fine dining and jack up your armed guards to handle even the toughest situations.

● Experience new prisons that range from ultra secure facilities with moats and fences to luxury prisons with elegant cells and everything in between. You can even land your prisoners on The Rock, the notorious prison that inspired Prison Architect.

● Build your penitentiary on exciting new plots, including an abandoned oil facility, the banks of a historic lake, an abandoned city block and a desolate desert!
We're currently trying to see if we can bring you a review for the game close to launch, so be sure to stick around at PS4blog.net!