Read Only Memories is making its way to PlayStation 4 and PS Vita, and that means now is the perfect time to get in touch with MidBoss to talk about the game and it's move to Sony platforms.
Hi! Thanks for doing this interview. Could you please do us a favor and present yourself to our readers?
My name is Matt Conn and I'm the CEO of MidBoss, and the executive producer for Read Only Memories.
After a very Kickstarter campaign, Read Only Memories (ROM) managed to make it to Windows, Mac and Linux. How would you describe the game to someone who has never heard about or seen Read Only Memories?

In Read Only Memories, you play the role of a struggling journalist who soon partners up with the worlds first sapient robot. Watch them learn and grow as you attempt to help them find their creator, and dive deep into the world of Neo-San Francisco as you become embroiled in the darkest scandal of 2064. It's a story-heavy cyberpunk point and click adventure, inspired by classic games like Snatcher and Gabriel Knight, while mixed with contemporary styles of games like Phoenix Wright.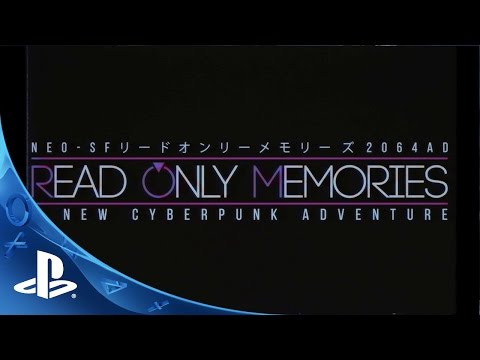 Please enter your date of birth to access this video.
I remember how the first game that came to mind when I saw ROM on Kickstarter was Snatcher. Care to elaborate on why I got that vibe?

Snatcher was always something that we loved growing up and I think we all felt was under-appreciated and way overlooked. We all could unite around this idea of carrying forward that spirit in this game, but our game truly evolved into its own through the dev process. There are still many of the Snatcher and Policenauts influences all over the game, though.
ROM has been doing great both with media and players and it's been getting great reviews. How does it feel to see the game be embraced by the gaming community after so many long years of hard work?

Honestly, it feels like we're just getting started… this was our first game as a studio, and we have so many things we want to do to improve the game for the big Read Only Memories DX release on Playstation systems. To me, the current product is great, but…all I can see are ways we can make it better and make the final, DX version be what the game should have been from the start, and I'm really excited to show that version with the Playstation community!
We are here today to discuss the PlayStation 4 and Vita release for ROM soooo… take it away! Is extra content being planned for the console release? What stuff besides trophy support is being added into the mix?

Oh, there's going to be LOTS of new content for DX – outside of trophy support, we're doing voice acting for the key scenes in the game, with some really top notch actors. I'm thrilled to get to announce them soon, but I think that spoken cutscenes will definitely broaden the appeal of Read Only Memories to a new audience. There will also be some additional puzzles, lots of small tweaks to dialogue and characters, some new characters and songs and sets and animations…just..more stuff!
Can you share with us the trophy list for ROM? Will it include a Platinum Trophy?
Hoo.. I don't know just yet, but we hope we can do Platinum if we can work it out with Sony!
Is ROM going to be a cross-buy release? Are the PlayStation 4 and PS Vita versions releasing at the same time?
This is another thing we're looking at and talking to Sony about. We're leaning towards doing cross-buy, but I don't think we've done enough research around that current model yet to confirm. The PS4 and Vita versions are planned to launch simultaneously, yes, but that can't be confirmed until we announce the final launch date of the game, likely around or at E3.
Once again, thank you for taking the time to do this interview . Is there something else you'd like to mention before we go?
I just want to thank people who've supported our game, given it a try, or are interested in doing so on the PS4/Vita! Also thanking them for being open minded about a game that, I hope, has talked about some really interesting topics on transhumanism and tells a pretty cool story in the cyberpunk world of Neo-SF. Y'all can keep an eye out for our future updates on @ROM2064 on Twitter, and over at our blog!