Fiona, Rhys, and the whole gang are in deep trouble now! After the events from Catch a Ride, the group finds themselves in a pretty dangerous situation with no way out. They must, therefore, work with their enemies to stay alive long enough for them to find a way out of this mess.
Due to the nature of episodic games, there's going to be a ton of spoilers after the break, so do understand that if you haven't played previous episodes you might learn a lot of information from events you haven't experienced.
After a dizzying escape from a very-near-almost-certain-death scenario (involving statuesque buttocks), Rhys and Fiona find themselves looking for another piece of the puzzle that will lead them to the untold riches of Vault key ownership.

Lost in the mysterious jungle of an Atlas terraforming facility, Fiona finds help from an unexpected mentor, Rhys continues to share brain-space with the disembodied mind of a dead dictator, and love is in the air.

Pursued by the ruthless criminal 'Queenpin' Vallory, and with very little help from Vaughn's accountancy skills (or stellar abs), getting anywhere near the Vault will be entirely up to you.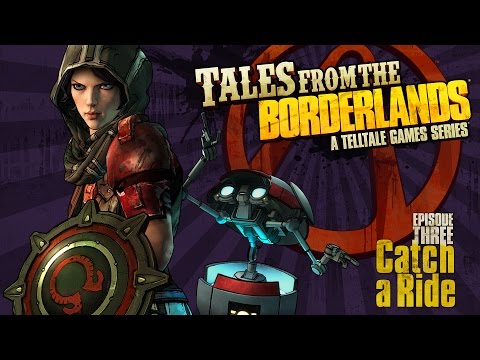 Please enter your date of birth to access this video.
Turns out that Vallory REALLY wants to get her hands on a vault, which is why she'll do anything to reach that goal. This is why she thinks that Rhys, Fiona and everyone else can help her to find the elusive Vault of the Traveler. Gortys tells her that the vault moves around constantly, but that if she had all of her parts she could call the Vault of the Traveler and keep it in place so that Vallory could get all of its content.
The problem is that the last Gortys piece is up there on Helios, the lovely space base from Hyperion, which, as you can imagine, is packed with guards and guns and stuff that can go bang-bang and kill everyone. Also, everyone up there wants to kill Rhys, which sorta makes it hard for him to just casually stroll into Helios as if he had never left in the first place.
There's also the fact that the gang doesn't currently have a spaceship that can take them to Helios, which is why Fiona must first convince Scooter to help them create the vehicle they need to storm into the Hyperion base to grab the final piece of Gortys… which just happens to be located inside of the former office of Handsome Jack which is 1000% off-limits and a restricted zone.
Speaking of Handsome Jack, he's still stuck inside of Rhys' head and is still very eager to "help" to make things "right." Players will need to decide if they trust Handsome Jack to help with the current situation, or if they simply confess everything to Fiona and her sister before things start to get very, very dangerous for everyone involved.
I believe those are enough spoilers for one review, so let's get down to the final comment. Is Tales from the Borderlands – Escape Plan Bravo worth your time and money? Hell. Yeah. If you've been having fun with the other episodes in the series, then you're going to love Escape Plan Bravo, especially for the way it ends and how it sets up the final episode of the season.