The adventures of Rhys and Fiona in Pandora continue in this third episode for Telltame Games' take on the Borderlands universe. What will this intrepid duo run into after the crucial events from Atlas Mugged? Remember that due to the nature of episodic releases, once you click past the break you're in spoiler land territory. All good? Then come right in!
After a dizzying escape from a very-near-almost-certain-death scenario (involving statuesque buttocks), Rhys and Fiona find themselves looking for another piece of the puzzle that will lead them to the untold riches of Vault key ownership.

Lost in the mysterious jungle of an Atlas terraforming facility, Fiona finds help from an unexpected mentor, Rhys continues to share brain-space with the disembodied mind of a dead dictator, and love is in the air.

Pursued by the ruthless criminal 'Queenpin' Vallory, and with very little help from Vaughn's accountancy skills (or stellar abs), getting anywhere near the Vault will be entirely up to you.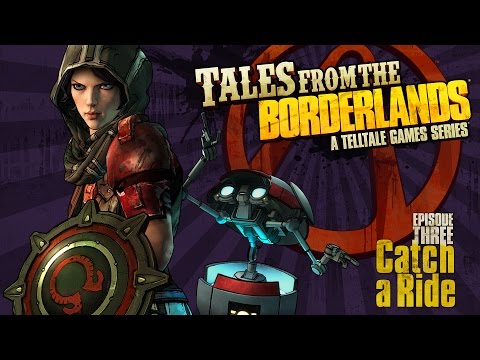 Please enter your date of birth to access this video.
Things kick-off with a bang following the events from the previous episode, when Rhys, Fiona and the rest of the group managed to find the much, talked about Gorthys Project… but is this sphere really as powerful as everyone thinks? Seems to be the case since they're all willing to kill anyone that gets in their way to get their hands on the Gorthys Project!
As has happened during the two previous episodes, things go from bad to worst really fast, and just as Rhys and Fiona figure they've managed to escape the onslaught, a very pissed off Vallory shows up. She doesn't like to take no for an answer and wants the Gorthys Project as payment for screwing up the deal for what she thought was a legit vault key.
After this lovely exchange, the group manages to activate the Gorthys Project, and players will definitely be surprised when they see it in action! Thanks to the knowledge gained from this, Rhys and Fiona realize that there are other pieces that must be found before the Gorthys Project can truly be completed. They, therefore, set out on a new quest to find the missing pieces.
This search takes them to a dome where they find a weird scientist that seems frail and harmless, but you better remain on full alert because by now you should know that nothing on Pandora is as it seems. One false move, one bad decision, and you're all done for. Since time is of the essence, the group splits into two smaller groups to try and find the missing piece as fast as possible, and each group will need to overcome some harsh hazards and obstacles in order to stay alive.
I believe this should be enough spoilers for a day, but rest assured that the rest of the episode just keeps getting better and better, and by the time your time with Catch a Ride is over you'll be desperately waiting to play Escape Plan Bravo, which is the fourth episode of this series.
Interested in Tales from the Borderlands? If so, why not support us and buy it from our Amazon Store?

Disclaimer

This review is based on a digital copy provided by Telltale Games.