The second episode from Telltale Games for Tales from The Borderlands (titled Atlas Mugged) continues with the new adventures of Fiona and Rhys as they explore Pandora for… well, you'll just have to click after the break so that we can keep the spoilers away from the main page!
Anything BELOW this line is to be considered as 100% spoiler material, so if you want to continue reading, you have been warned! Also, this information might be different during your time with Tales of the Borderlands due to the almost "choose your own adventure" nature of the latest series from Telltale Games. All good? Great! Let's continue.
Episode two of a five-part episodic game series set in the award-winning universe created by Gearbox Software.

Like all good tales, there's more than one side to a story. Especially one about a Vault key, the Hyperion Corporation, bandits, loot, gangsters, Vault Hunters, secret Atlas tech, explosions, getaways, extortion, betrayal, and mayhem.

Set after the events seen in Borderlands 2, Tales from the Borderlands is about Rhys, a Hyperion company man looking to become the next Handsome Jack, and it's also about Fiona, a Pandoran con artist out to score the biggest of all swindles.

Lured into danger by a Vault key and all it promises, the unlikely duo are thrown together with a common goal and a huge amount of mistrust. Who is telling the truth, and why is it important?

That's up to you to decide.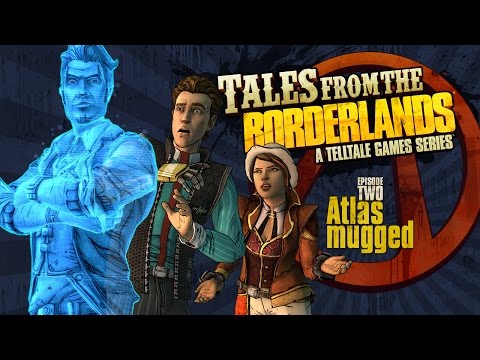 Please enter your date of birth to access this video.
As expected, Atlas Mugged picks up exactly where we left at the end of episode 1, with Rhys, Fiona and the rest of our group at the covert and totally secret Atlas bunker they found before the end of Zer0 Sum. After everything that happened during Zer0 Sum, you better act fast to find out as much as you can about this "Gortys" project that Atlas was working on… because with Hyperion coming after Rhys, and with the group having pissed off a bunch of bounty hunters and an angry August who wants his money, well, let's just say that things could be going better.
With the game taking place after the events of Borderlands 2, it's interesting to see that Handsome Jack, who is dead (as in, really dead, not comic book dead) plays a big part in the development of Tales from the Borderlands. Since only Rhys can see him as what appears to be an undead hologram version of the former Hyperion big shot, this opens the door for several comedic moments where Rhys is shouting mad while the other characters look at him funny for basically talking to himself and making no damn sense.
When the group finds a retinal scanner in the Atlas bunker, players are forced to do anything they can to gain access to the system. With a trapped dead body lying around inside of the bunker, and this being a retinal scanner, well… you do the math. After this particular scene, valuable information is uncovered, and it helps the group to continue their quest as they try to make the most of the cards they've been dealt.
The next section sees the group split for a bit as they tackle different tasks (not by choice, but by how things have played out up to this point), and this gives us a glimpse into how the rest of the season will be handled by Telltale Games. There's one moment in particular that will start to shape what happens in the next episode of the series, which I won't fully spoil here since it's a fun and clever situation that will play out differently depending on what players did right before said moment.
Tales from the Borderlands: Atlas Mugged might seem like a linear game (which it is), but things aren't as easy as moving from point A to point B (as is to be expected), and players will run into some tough situations that require a solution, and fast. Each choice a player makes will end up playing a part in future episodes, so be ready to see some choices come back to bite you in the ass. Also, depending on the choices you make some sections will be completely different as the tension and relationship between each character is slowly molded by every breath you take, every move you make.
By the end of the episode, players will have finally reached the location of the Gortys project, but they'll definitely be way over their head with the situation they'll find. Tales from the Borderlands Episode 2: Atlas Mugged is an excellent episode in this new series from Telltale Games. Some of the choices made in Episode 1 have started to show their consequences here but, as usual, the big changes won't happen until the next episode (Catch a Ride) which we'll be reviewing next week!