Telltale Games has let us know that Game of Thrones – A Nest of Vipers, the fifth episode in the series, is releasing today on PS4 and PS3! The situation is tense and the future of House Forrester hangs from a very thin thread. Want to learn more? Then click past the break, and do remember that if you haven't played the previous episodes, there ARE spoilers to avoid!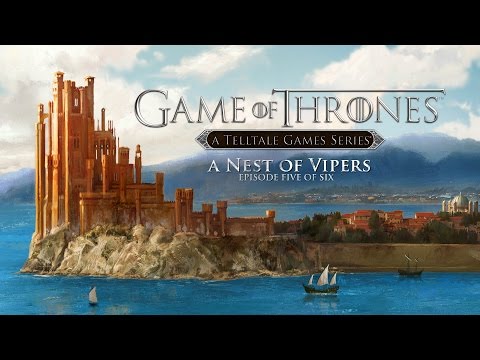 Please enter your date of birth to access this video.
In this penultimate episode of the season, the actions of every Forrester are vital to the survival of the house. Rodrik's alliance with House Glenmore, and his defiance of the Whitehills, has drawn the ire of an even greater threat: Ramsay Snow. Far across the Narrow Sea in Essos, with Meereen now a free city, Asher is close to securing the army he desperately needs to return home, and save his family. In King's Landing, Mira's activities at Tommen's coronation have not escaped the attention of Margaery Tyrell, and Cersei has realized that the handmaiden may prove useful in her political games. Finally, beyond the Wall, Gared's unlikely allies are reluctant to help in the search for the North Grove… but this far into the frozen wilds, Crows and Free Folk have a common enemy; and winter is coming.
We'll be bringing you a review for Game of Thrones – A Nest of Vipers soon, so be sure to stick around at PS4blog.net.